Long and Short-term Consulting
We provide a range of long- and short-term consulting services to meet your photovoice project, programming, and research needs.
For example, we can:
Train your team members
Advise on project activities and timeline
Facilitate photovoice sessions
Advise and conduct data analysis
Plan and implement photovoice for evaluation
Create and format online and in-person exhibits
We work with you to identify consulting services that meet your needs and fit your budget.
Indiana University, School of Medicine: Leveling the Playing Field for Anxiety Disorders
Indiana University's School of Medicine (IU) conducted an exploratory project on emergency department (ED) care for people with anxiety disorders. The project's co-investigator decided to use the Photovoice method with patient-partners to better understand their perspectives on the problem of inadequate ED care.
When she approached PhotovoiceWorldwide about consulting, we were happy to partner on the project. Our first steps were to:
Train the peer leaders and co-investigator in photovoice
Design and plan the photovoice sessions (together with their team)
Facilitate the photovoice sessions remotely using Zoom.
Patient-partners used their cell phones to take photos of: "What is it like to live with anxiety disorder?" and "How does anxiety affect your health, work, family, and social life?" They discussed their photos in group meetings that were recorded and transcribed, to help with caption-writing. Between sessions they worked online using a Slack channel to choose photos for an exhibit, finalize their captions, and comment on each other's work. The co-investigator chose to use Slack as a platform for this project to make it easier for photovoice participants to share and comment on photos and continue the conversations in-between sessions.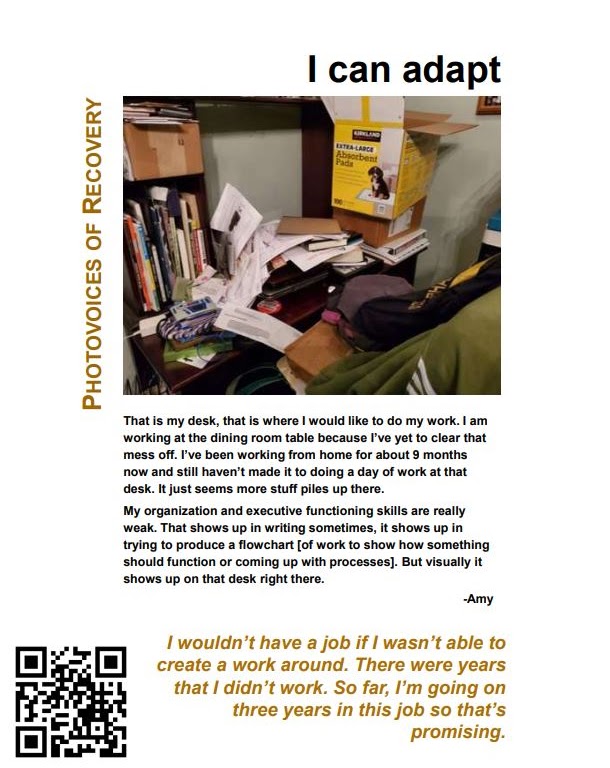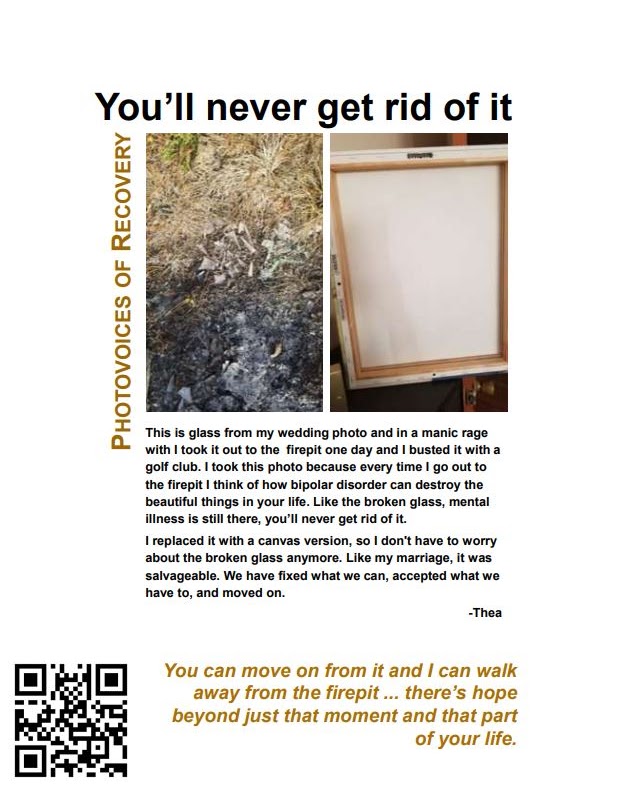 Additional PhotovoiceWorldwide work included:
Discussing photos one-on-one and with the group over Zoom
Posting draft captions online and commenting on the ongoing work
Formatting the exhibit posters and a project booklet
Co-authoring a peer review paper with the co-investigator and peer leader.

The final exhibit inspired an expanded research partnership and commitment to a major grant application. The new project was awarded funding from PCORI, the Patient-Centered Outcomes Research Institute, a U.S.-based nonprofit institute.
PhotovoiceWorldwide continues to partner with IU on a second photovoice project, with the National Alliance for Mental Illness (NAMI Greater Indy). This new project is documenting the experiences of individuals with mental illness during Covid-19 lockdown in Greater Indianapolis. For this new project, PhotovoiceWorldwide has provided the consulting services described above, plus:
Facilitated one of three photovoice groups (on Zoom)
Created the project's online exhibit and designed the in-person exhibit posters
Designed and implemented an online system using Mentimeter to collect feedback from exhibit viewers on the Photovoice data
Planned and conducted qualitative data analysis
PhotovoiceWorldwide is excited to collaborate with your team in a meaningful way to provide training and necessary project scaffolding as consulting partners. Let us know how we can support you.